Joined HOSE on August 21st, YBM stocks made investors round eyes when most of the session ended in the ceiling or reduce the floor.
YBM of Yen Bai Mineral Industry Joint Stock Co (HNX) has just hit the ceiling price for many consecutive sessions, creating the first peak at 23,250 dong per share on August 27th and interwoven with the ceiling gain. peaking at 29,000 dong / share (12/09). However, on September 13th, YBM reversed to "mop up" 3 consecutive sessions, falling to 21,600 dong / share on the 6th floor (21/09).
What makes YBM so special?
In terms of shareholder structure of YBM, as of 30/05/2018, there was a big change compared to the time of establishment. At the time of establishment, YBM's shareholder structure was "condensed" when 93% of the shares belonged to European Plastics Joint Stock Company, Northern Industrial Minerals Company and Board Member holding 2.86%. The remaining is owned by Le Hoan investors. As of 30/05/2018, European Plastic JSC only holds 23%, Member of BOD Nguyen Tien Dung holds 0.07% not significant, the remaining 77% is other shareholders.
Shareholder structure YBM at the time of incorporation (Left) and at 30/05/2018 (Right)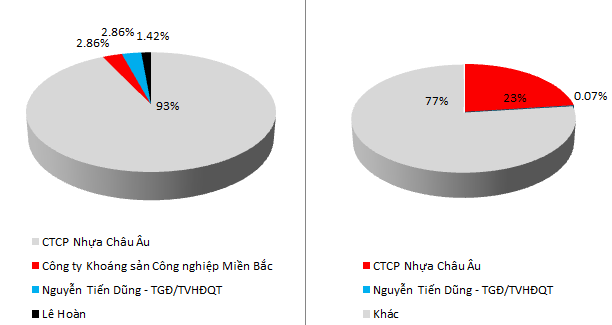 Sourcing: Prospectus 2018
Yen Bai Minerals Industry Corporation (HOSE: YBM) was established on 05/10/2015 with initial chartered capital of VND 35 billion. CaCO3 stone (Calcium carbonate) is the company's main product, contributing about 60-70% of its total revenue. It is used as an additive in the paint, plastics, paper and rubber industries. other in the industry.
Main products of YBM, contribute 60-70% total revenue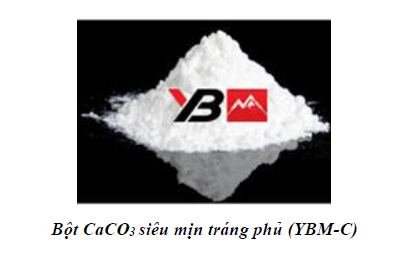 Sourcing: YBM
In addition to domestic consumption, the company's products are expected to be exported to India, China, Bangladesh, Sri Lanka, etc. Currently, India and Bangladesh are two main export markets of YBM.
The risk of this industry is that once the consumer country has a change in import policy, the market for white marble products of the business may be affected. However, YBM is a major shareholder of European Plastic JSC (23%, 2.99 million shares) – one of the five largest filler masterbatch fillers in the world committed to consuming 50% of its production capacity. .
Due to the demand for capital for investment and implementation of projects, from April 2017 to now the company has increased charter capital twice, raising the total charter capital to nearly 130 billion.
YBM currently has two subsidiaries, Yen Bai Power and Minerals JSC (96.9%, 1.9 million shares) and Talc Vietnam Ltd. (99%, 14.9 million shares). However, these two subsidiaries are in the process of capital construction and have not yet generated revenue and profit but only incurred administrative expenses.
Revenue of YBM reached a high growth rate from the second year of operation with the result of more than 220 billion VND, more than 3 times higher than that of 2016.
2016,2017 and 2nd Quarter, 2018 Business performance
Sourcing: Financial Statement 2016, 2017 and 2nd Quarter, 2018
Along with that, the total profit of the company also grows steadily over the years. In 2016, YBM reported nearly 11 billion profit, by 2017 this number is more than 3 times to nearly 30 billion. In the first two quarters of 2018, it will earn over 11 billion dong of after tax profit. Cost of goods sold / sales of the company tends to decrease over the years, from 69% in 2016 to 59% in 2017 and more than 59% in the first 6 months of 2018. Cause the period 2015 -2016 is the first year of the new company put into operation so many expenses related to test run, replacement of materials, … From 2017, business operations of the company to stabilize, productivity increased High leads to lower costs.
With positive business results, the Company will pay 2016 and 2017 dividends of 29% and 30%, respectively. Outstanding loans and financial leases of the Company increased sharply from VND 36 billion in 2016 to VND 112 billion in 2017. The Company's loans are mainly short-term loans, secured assets in two banks is Vietnam Joint Stock Commercial Bank for Investment and Development, Vietnam Joint Stock Commercial Bank for Industry and Trade.
Loan structure in 2016, 2017 and 2nd Quarter, 2018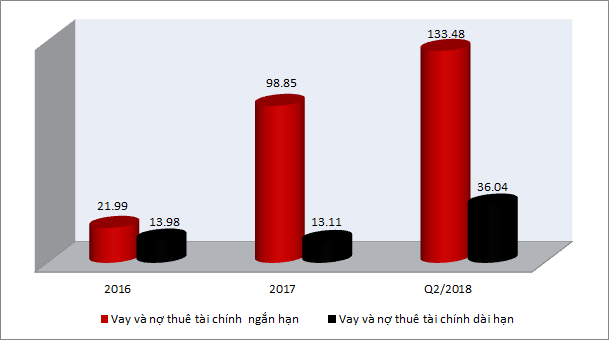 Sourcing: Financial Statement in 2016, 2017 and 2nd Quarter,2018
These loans are used for the purpose of purchasing materials, tools and tools; Expenses on sales and services for expansion, increase productivity of the Company in 2017. In addition, the value of loans and financial leases increased sharply due to the Company. Invest in two more hydraulic grinding lines in 2017.
As of the end of Q2 / 1818, the Company's outstanding loans and financial liabilities amounted to VND169.5 billion, mainly focusing on short-term loans from banks (over VND133 billion) and leases Long term (over 33 billion).
Interest expenses in 2016, 2017 and 2nd Quarter,2018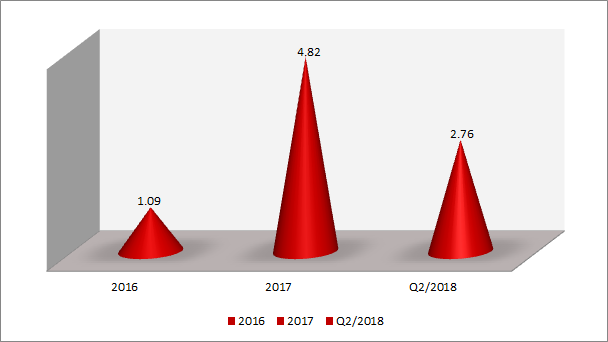 Sourcing: Financial Statement in 2016, 2017 and 2nd Quarter,2018
The company is in a strong growth period with ROE of 33.5% and ROA of 16.7%. Meanwhile, the average lending and financial lease rates in 2017 range from 4.5% -8%, lower than the rate of return on assets. Based on the plan, revenue in 2018 is expected to reach 400 billion dong, profit after tax is estimated at 63 billion dong. YBM's EPS 2017 is VND4,383, which is an average compared to the current CaCO3 superplasticizer and plastic resins.
In 2018, the company put into operation phase 3 with two hydraulic machines with a capacity of 12,000 tons per month and investment in the factory phase 4 with a capacity of 20,000 tons per month. As a result, production is projected to increase to 350,000 tonnes in 2018.
In the first half of 2018, the company will continue to invest in 4 plants with 5 hydraulic mills with a capacity of 150,000 tons per year, providing additional services to big customers such as European Plastic JSC is growing hot in years through, deep penetration into China, Sri Lanka and South Africa.
At the same time, the company goes into quarrying to produce CaCO3 stone powder at the quarries in Yen Bai province, with reserves of nearly 12.5 million m3 and exploitation time to 2041.
In the first six months of 2018, revenue from sales and services reached nearly VND147 billion, 1.5 times more than the same period last year. Of which, domestic sales came in at over VND111.6 billion, or 76% Total turnover and sales of export goods reached over 35.3 billion. Profit after tax brought back 22 billion.